News
WW1 Exhibition 2018
Armistice 1918
Our Community at the End of the Great War
Free Exhibition at St Luke's Church Hall
9th, 10th Á 11th November
Click here for more information.
A new booklet "Holmes Chapel at the End of the War" will be available at the exhibition as well as the 11 booklets already published.
Details of our WW1 project can be foundhere.
Projects
Details of completed and active projects can be found here.
Our Local Heritage
Articles written by members of the group which have been published in "The Villages Mag" can be found here.
Seeking Information
We are keen to talk to anyone with local knowledge about any of our projects. If you think you can help us with information, photographs or memories please make contact via the "Contact" tab above.
Historian's Archive
We have a large collection of documents and local knowledge and will try to help with any query regarding the history of Holmes Chapel
Welcome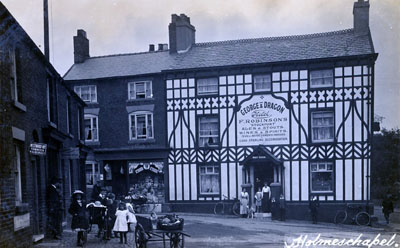 This is the website of the Holmes Chapel U3A Local History Group.
Its purpose is to:
Make accessible to the wider public the results of our research into the history of Holmes Chapel and the surrounding area
Use it as a means of requesting further information from anyone who has specialised knowledge of the time period we are currently researching
Provide a resource for other historians interested in our village and our work
The Group welcomes new members with an interest in researching any aspect of local history in the Holmes Chapel area.
The group is supported by the Holmes Chapel and District U3A and has received funding from the Heritage Lottery Fund for our WW1 project.