Articles published in "The Villages Mag"
Contents
The Benger's Factory
Some people are probably unaware of the nutritious food supplement known as Benger's, which at one time was regarded as essential in the care of young children, expectant mothers and invalids, and of the fact that it was manufactured in Holmes Chapel in a state of the art building on London Road near the railway bridge. At its peak Benger's was the major employer in Holmes Chapel and played an important role in the day to day life of the village. Its sports and social club was well attended and frequently used as a venue for local events.
Benger's Foods, originally Mottershead and Company of Manchester, was acquired in 1870 by Frederick Baden Benger and Standen Paine, both pharmacists. It was renamed as Benger's Food Ltd in 1903 and in 1938 was relocated to purpose built premises in Holmes Chapel. The Head Office, in an " imposing but restrained" Art Deco style, and the factory were designed by the architectural practice of J H Andrews and Butterworth, Manchester, which specialised in the design of industrial buildings.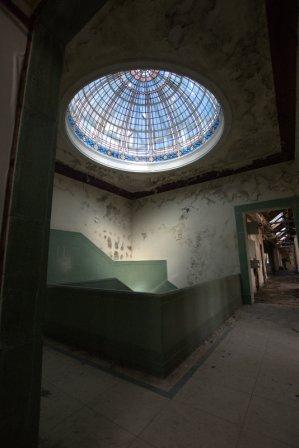 The Benger House building was a fine example of the new "daylight factory" introduced into this country during the 1920s. The aim was to make the workplace more efficient and more pleasant for the labour force. Among the impressive features was a domed lantern in pink and blue glass which lit the staircase in the entrance hall and the glazed wall and floor tiles of the manufacturing areas.
In 1947 there were 350 employees and Bengers Food was bought out by Fisons Ltd. Their pharmaceutical division based in Holmes Chapel with its portfolio of asthma and anti-allergy drugs was by far the most profitable of the company. The Fisons group was dissolved in 1996 and the site and buildings were acquired first by Rhone-Poulenc and then by Sanofi Aventis, who built a brand new factory. The former Benger House was not included in the redevelopment plan and it sat empty with little to show of its former usage.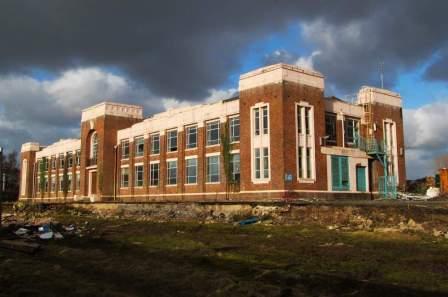 It was a sad sight to see the once lovely building fall victim to the ravages of time and the encroachment of nature. An application to assess the building for listed status was received by English Heritage in 2011 but was turned down because,
"While the frontage of Benger House has characteristic late Art Deco features it does not exhibit sufficient interest or intactness associated with the Art Deco style though it is clearly of strong local interest."
It is thought that the location of the building in the then small Cheshire village of Holmes Chapel may have modified any greater flamboyance in the design. The building was finally demolished in August 2015 and the site is now for sale for redevelopment.
This article was published in "The Villages Mag" in July 2019