Articles published in "The Villages Mag"
Contents
The Great Fire of Holmes Chapel 1753
A report in the Manchester Mercury dated 17th July 1753 stated that on the "previous Tuesday (10th July 1753) a fire broke out in the house of a button-maker in Holmes Chapel. There was a high wind and in a few hours 15 out of the 19 houses in the town were reduced to ashes".
The buildings which escaped the fire were the church, the Red Lion and the cottages behind the church with low roofs. The fire came very close to the Church. Lime trees which circled it, planted in 1743, were scorched but survived. They were removed in 1960 because they had become decrepit and dangerous.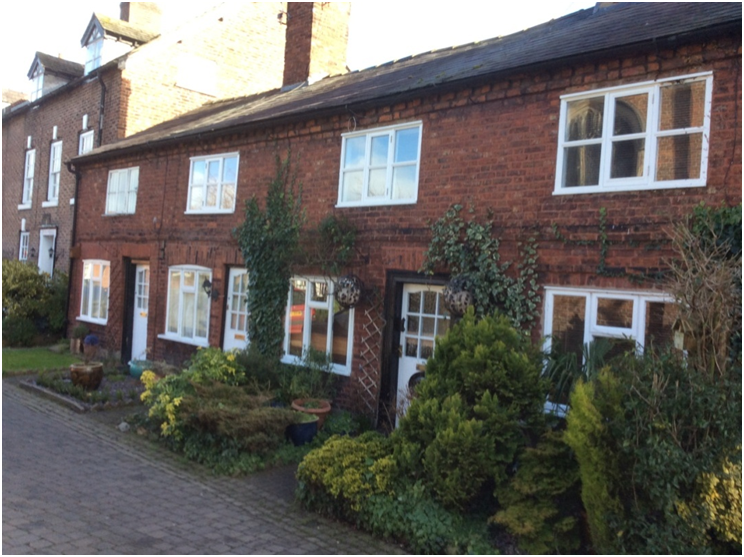 Cottages behind the Church which escaped the fire
At the time of the fire most of the inhabitants were at a monthly meeting in Northwich. As a result there appears to have been no loss of life. A consequence of the fire is that the oldest buildings in the village, except those mentioned, are late 18th/19th century.
There is no known record of how the fire was put out or what equipment was available at the time in Holmes Chapel. However fire engines were in existence in the country at the time.
The earliest references to an "engine" in Holmes Chapel is found 1866. However in 1892 some willows thought to have been behind the present Sainsbury's and Costa caught fire "and in a few minutes about 50 dozen hampers and 50 tons of dry willows, together with the shed that contained them, were in one monstrous blaze". It is stated that water was brought from pumps in buckets to bring the fire under control as it was no use getting the fire engine out because there was insufficient water to feed it.
This article was published in "The Villages Mag" August 2018